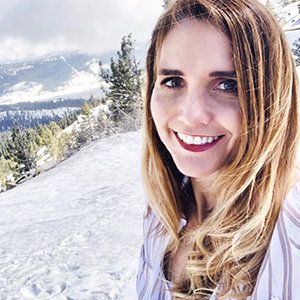 I'm just a tech geek girl who likes to paint, make motion graphics and mix sound.
My grandfather & great-grandfather were both artists, and I grew up around easels and paints. Once I got a hold of my first set of oils, canvas & a HUGE floor-to-ceiling easel that the art store referred to as "the guillotine," I was in love. Painting was effortless to me.
Then, I dove into Photoshop and Corel Painter in the early days of those apps. During this time, I also geeked out on new 3D art mediums like Ray Dream Studio, Bryce, & Poser. I'm pretty certain I was one of the first owners of a Wacom Intuos Tablet in 1998, back when they were that weird computer tan/gray color. Computer processing time was a huge hurdle, and rendering lag on brush strokes was too real, but the beauty of having your work exactly where you left off when you last shut off your computer was a beautiful thing. I became a huge tech geek, building my own PCs, so that I could install the fastest processors, memory and graphics cards available at the time.
I've won a GURU award for Photo Retouching from the National Association of Photoshop Professionals.
I founded my own interior decorative art business, Dreamscape Artistry, painting interior & exterior murals, luxury faux finishes, and Venetian Plaster..
Since that time, I have hosted my own podcast and founded several businesses, ranging from emerging tech, like VR, drones, 3D intelligent vision & facial recognition, mobile app creation, & blockchain/fintech, to an organic CBD skincare line. I also lead groups for women in crypto & blockchain. And, of course, I have continued painting, both traditional & digital mediums, & exploring audio, video & motion graphic production.
I dove into the crypto space in 2016, and in 2018 I created a group called, Beverly Hills Crypto Ladies, organizing events in Los Angeles for women in blockchain & crypto, was a mentor to the Blockchain Girls at Santa Monica High School, and I also founded a DAO called Global Village Solutions, with a solar energy pilot based in Puerto Rico.
As a dedicated believer in decentralization and blockchain technologies, the NFT art space is fascinating to me. My focus in this realm is as a historical artist, creating original digital paintings, digital art, new media art, & motion art, celebrating the early adoption of crypto currency & blockchain technologies.
Painting has always been my first love, and the opportunity to incorporate it into digital motion art feels amazing! THIS is what is so exciting to me about creating NFTs! There is no limit to your imagination and the interaction between still images, motion graphics, sound, melding traditional & futuristic mediums together… The Metaverse provides a NEW realm to showcase art and express ideas, and I'm all in.