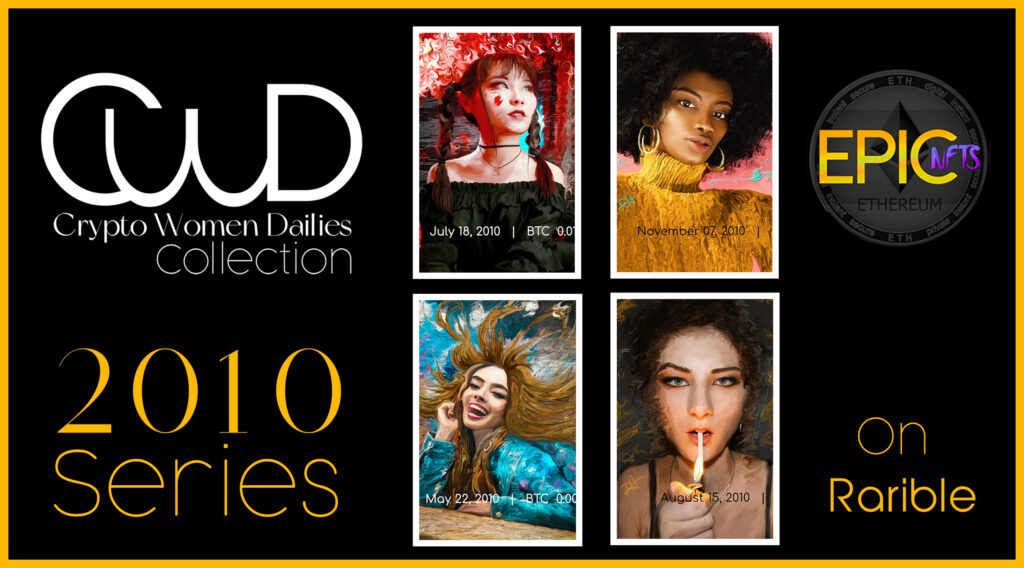 2010 Series | Crypto Women Dailies NFT Collection
CWD is a historic NFT collection comprised in total of 150 pieces spanning important dates in bitcoin price history from 2009 – 2022, and can be found on the Rarible Marketplace. All tokens are priced equally at 0.07 ETH.
In 2010, bitcoin started gaining traction and awareness, yet there were only a few notable events throughout the year that had an impact on the growth and price of bitcoin. The 2010 series of this collection contains four unique tokens to commemorate the following events:
2010 May 22 –  Laslo Pays 10,000 Bitcoins for Two Large Pizzas
2010 July 18 – First Bitcoin Trade on Mt.Gox for 5 Cents per BTC
2010 August 15 – Bitcoin Forked After One Time Security Glitch
2010 November 7 – Bitcoin Catapults to 39 Cents
Art details: Original digital hand painted motion art portraits (NOT computer generated). The ticker tape displays the historical daily price indexes recorded on this day.
Dimensions: 720 x 1080, Duration: 15 seconds
Created with Corel Painter, Adobe After Effects & Adobe Premiere
Artist: Denise Holt