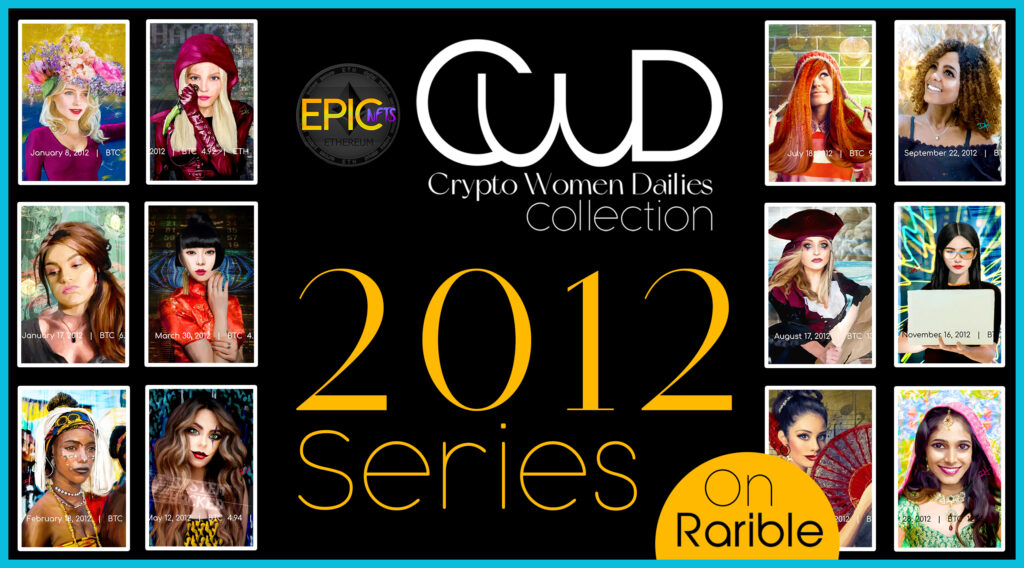 2012 Series | Crypto Women Dailies NFT Collection
CWD is a historic NFT collection containing 150 unique tokens representing  important dates in bitcoin price history from 2009 –2022, to be released in mini-drops throughout 2022, of twelve new unique tokens for each successive year series. The initial sale of the tokens can be found on the Rarible Marketplace. All tokens are priced equally at 0.07 ETH.
2012 was largely uneventful pricewise, with Bitcoin remaining stabilized at around $5.00, until mid-year when the price more than doubled. In its 4th year,  several key events sparked restored faith and steady growth, as Bitcoin moved from hacks to legitimate business.
 The 2012 series of this collection contains twelve unique tokens highlighting these  events:
2012-01-08 – BTC Starts Year With Significant Rise
2012-01-17 – BTC Plunges to $4.60 before settling at $6.04
2012-02-18 – Payment Platform Paxum Drops Bitcoin Due to Pressure From Banks
2012-03-01 – Hacker Heist – Linode Hacked and Bitcoins Stolen from Gavin
2012-03-30 – Bitcoin Version 0.6.0 Released
2012-05-12 – Hack at Bitcoinica
2012-07-18 – Return of Double Digits
2012-08-17 – Pirate Ponzi Scheme Bitcoin Savings and Trust
2012-09-17 – Bitcoin Version 0.7.0 Released
2012-09-22 – The Bitcoin Foundation Launches
2012-11-16 – WordPress Makes Bitcoin History Accepting BTC
2012-11-28 – Bitcoin's First Halving Day
Art details: Original digital hand painted motion art portraits (NOT computer generated). The ticker tape displays the historical daily price indexes recorded on this day.
Dimensions: 720 x 1080, Duration: 15 seconds
Created with Corel Painter, Adobe After Effects & Adobe Premiere
Artist: Denise Holt